Church bells have been the timekeepers of towns and villages for centuries, as most people didn't have clocks or watches for many years. Almost every town in Mexico, regardless of size, has the church as its centre so everyone can hear the bells. Large cities may have several churches in close proximity in the centre of the city all ringing at the same time and in different areas and the bells of each The melodic bells sound to strike the hour, call to Mass, rejoice at weddings and mourn a death. The church bells accompany the cohetes during the main festivals.
Of all the different ring patterns you will hear, the easiest to learn is that of the chiming clock. At each hour mark, the bells ring the number of equivalent chimes. At the 15 min. mark, a single ding-dong chime, at the 30 min. mark a double ding-dong, followed by a triple ding-dong at the 45 min. mark. The bells continue to mark time day and night with softer chimes throughout the nighttime hours
The call to Mass begins 30 mins. prior with a single chime, a pause, 15-30 chimes, a pause and a final single chime. The pattern is repeated 15 mins. later, this time with 2 chimes, approximately 30 chimes and 2 chimes.  As the Mass begins, the pattern repeats with 3 chimes either side of the 30.
The bells will sound the clamores when the church is informed of a death, a pattern of 3 chimes rung slowly and repeated after the funeral Mass as the body leaves the church.
When a religious procession is approaching the church, all bells will ring joyously to signal the call to Mass as they do at Fiesta to celebrate the Saints Days.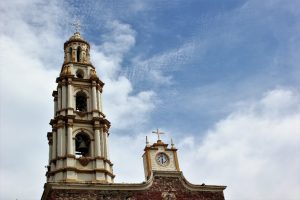 The "New Bells" of San Andres Church, Ajijic. A few years ago, the church acquired a trio of bells made of copper, brass and silver alloy, which are sounded by the means of a hydraulic system. although the old bells are still very much in use and rung by hand.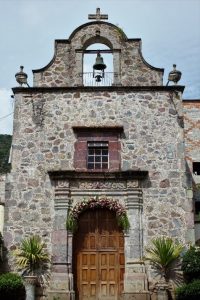 Our Chapel of the Lady of the Rosary, the delightful small old church just off the Ajijic plaza, on Calle Colon.  The original bells seen are rung by hand for the occasional event.
Their message of the bells can be summed up by an inscription found on an old English church bell
"That folk may come to church on time, I chime
When pleasure is on the wing, I ring
To speed the parting soul, I toll "