TORTILLAS, TORTILLAS, TORTILLAS…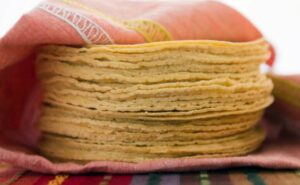 Tortillas are a main staple in the Mexican diet, just like bread is North of the Border. You will see a tortilla stand on almost every corner or in every block in the Chapala area, the staff inside busy mixing, flattening and baking these handheld edible plates to fill with your favorite food. Tortillas are made of either corn or flour and you can choose your favorite based on your own personal palette.
There are several ways that Tortillas are enjoyed, if you deep fry them, they are called Tostadas, cut stale tortillas into pieces (triangles), deep fry them, they are called Totopos. Double them over with a filling of your choosing, they are called Tacos. Use hardened Tortillas that have been fried, placed in a casserole dish, bathed in a red or green sauce, add some cheese and you have Chilaquiles, usually served at breakfast. Or how about a Flauta, your choice of meat wrapped in a large tortilla held together by toothpicks and deep fried till golden brown, served with your favorite toppings. Enfrijolada anyone? That is a tortilla bathed in a bean sauce and filled with chicken or cheese or both, you could also fill them with scrambled eggs, roll it up and enjoy. Then there is my husband's favorite, the Burrito; this large tortilla can be filled with just about anything, rice, beans, tomatoes, chicken, beef, cheese, salsa, pico de gallo, guacamole and/or crema. Often burritos are covered with a savory sauce. Be aware that this meal should be reserved for when you're really hungry…trust me. I could go on but I´m sure you get the idea…basically you take one of these glorious flatbreads then put in it, or on it, whatever savory or sweet you´re in the mood for and enjoy. Tortillas have been around forever and they will be around forever more!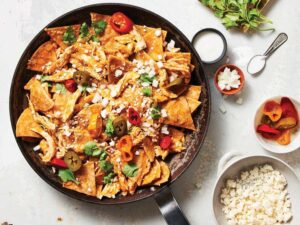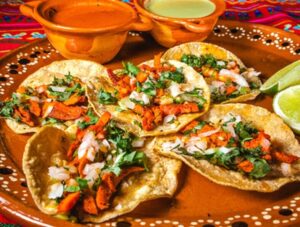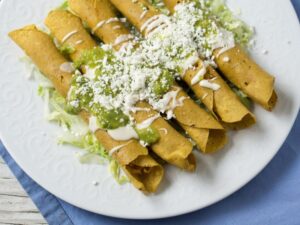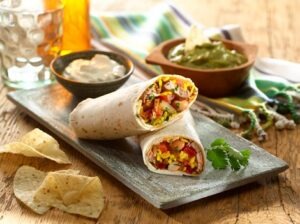 Nova-Lee DoBush