A beautiful harbinger of the tropical spring has arrived Lakeside – The explosive floral blossoms of the Jacaranda, Primavera and Plumeria trees. Offset by the stark brown contrast of the Sierra Madre Mountains, this vivid, floral explosion precedes the arrival of the seasonal rains.
The flowering Jacaranda (pronounced Hackaranda) is a tropical beauty with clusters of fragrant, pale indigo, trumpet-shaped blooms. Not native to Mexico, Jacarandas were brought here from Brazil at the beginning of the 20th century. However the tree thrives here with Lake Chapala's semi tropical climate. Their colourful magic doesn't last long though; within a month, the flowers will soon fall to the ground and create a majestic purple carpet. I have a tendency to walk around them so as not to disturb their cascaded beauty. Deep green leaves will soon replace the purple flowers, and the rains not far behind them.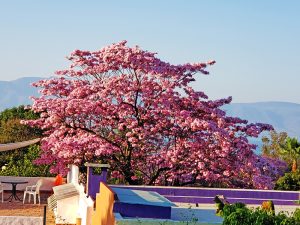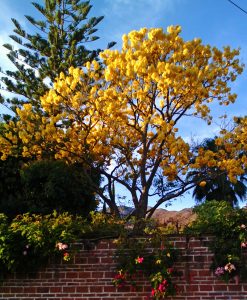 The towering Primavera tree erupts in canary yellow or flamingo pink flowers. It is often called the trumpet tree because of its bell-shaped, blossoms. This magnificent deciduous tree can grow over thirty meters in height with those wonderful flowers presented in large panicles (loosely and irregularly branched clusters). Similar to the Jacaranda, this showy, canopy tree bedazzles folks in early spring before its flowers fall and leaves soon emerge. I still find it amazing to see what looks like a dormant tree all of a sudden laden with a thousand colorful blooms.
Plumeria are an exception to our rule so far; their flowers start in March and will last through most of the summer, accompanied with their dark green leaves. Their blooms are clusters of slightly swirled, five-petaled flowers atop short stems, at the tips of branches. The flowers come in hot tropical colors with names to match – the rich yellow Aztec Gold, the delicate pure white Samoan Fluff, and the beautiful magenta Pink Singapore. As if their beauty were not enough, Plumeria flowers have an intoxicating fragrance that is most powerful at night to attract their pollinators. Lucky for us, the fragrance lingers through the daytime, too. Lean in and smell its bouquet.
There is always something in bloom in our little paradise called Lake Chapala and life here is so peaceful that it doesn't take you long to realize you have time to stop and smell the flowers.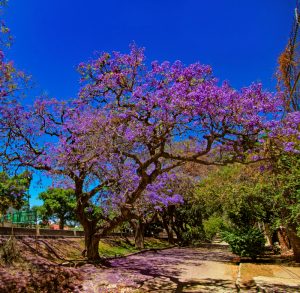 Written by: Nova-Lee DoBush