Ajijic: Town of Murals
Murals have been around since the beginning of mankind and may be seen in every part of the world.
From the earliest form of storytelling, using symbols on cave walls to giant paintings depicting historical events, murals have educated and delighted through the ages, even if the observer is unschooled in any language. In these modern days, murals are becoming increasingly popular in a variety of locales, often used to beautify an otherwise nondescript area, particularly in urban settings.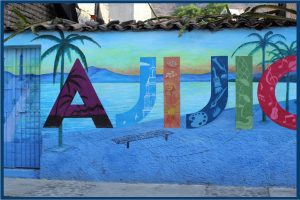 Murals are seen everywhere in Ajijic – on walls, doorways, sidewalks, lamp posts, even garbage stands! On the outside of restaurants, offices, stores, government buildings, residences & other locations – all are wonderful examples of Mexican muralism. Some are large and detailed while others are smaller and modest.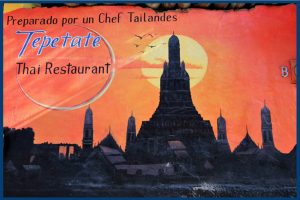 Many are used to depict the business found within while others may tell the story of political or historical occurrences. Not all the murals are outdoors and not all of them are permanent.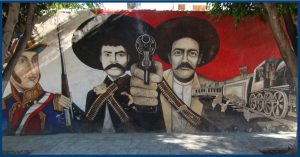 Once in a while, a garage or house door opens as we walk by and a quick glance can surprisingly reveal a wonderful mural work on the parking space wall or an entryway. Interior murals are to be found inside so many places in the village – government offices, beauty salons, small stores, bars and of course, churches. Inside homes, mosaic murals are favoured in the kitchen and any wall in the house can be a canvas upon which to display mural artwork.
The wonderful Ajijic sunshine is hard on the exterior murals and so we see faded paintings replaced with fresh art from time to time. Others seem to stand the test of time with occasional restoration.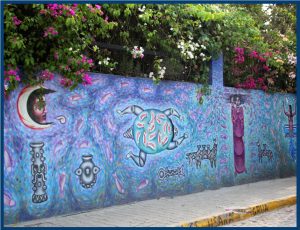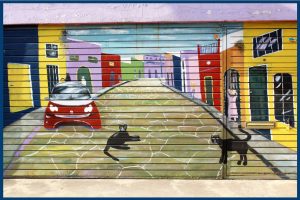 Ajijic is fortunate to have several professional artists who have given of their expertise to create works which ensures a prolific supply of beautiful murals. Enrique Velazquez, Efren Gonzalez, Victor Romero, Jesus Lopez Vega, Jose Duran and Javier Zaragoza are some of the more well known mural artists who live and work here.
The town of Ajijic affords the local population and visitors the opportunity to enjoy all forms of muralism- be it wall murals, tile mosaic murals or the graffiti style murals along the Ajijic Malecon.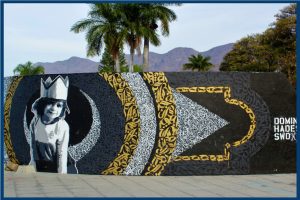 Art appreciation without stepping inside a gallery! Speaking of stepping, you'll find even the sidewalks have designs embedded in the concrete in places. While they are not murals, they certainly add to the charm of Ajijic – Town of murals.